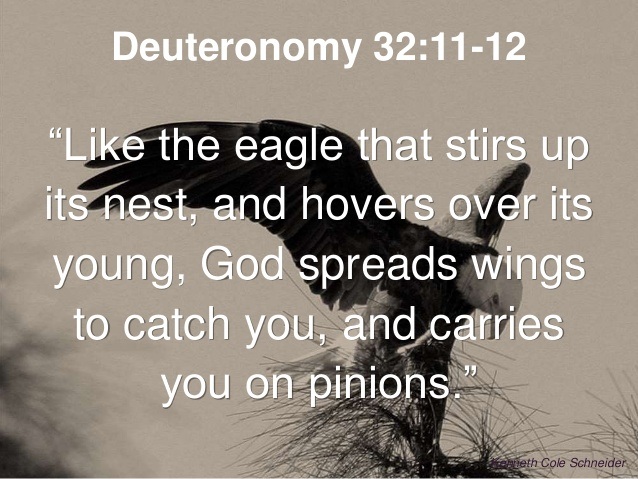 The New Dimension For You
The New Dimension For You
Deut. 32:9-12
9 For the LORD'S portion [is] his people: Jacob [is] the lot of his inheritance
10 He found him in a desert land, and in the waste howling wilderness: he led him about, he instructed him he kept him as the apple of his eye.
11 As an eagle stirreth up her nest, fluttereth over her young spreadeth abroad her wings, taketh them. beareth them on her wings:
12 [So] the LORD alone did lead him, and [there was] no strange god with him.
Grace is the means, faith is the way God blesses you, He dispenses faith immeasurably more than you can imagine (Eph. 3:20). God changes people like Peter. His name in his former life, is Simon, but we know him by what he became and that was Peter. You see many people tend to know you because of what you use to be, but God knows you for who you are now thru the regeneration of the Spirit and the washing of the blood of Jesus.
God will give you the grace to go through great difficulty. You must have the wings to lift you to those lofty places of peace and power. He will never challenge you to go higher than your wings will carry you.
We have often used the metaphor of the eagles who soar far above the lower elements of their environment to fulfill their destiny, make love to their mate, and raise their families to be free. And God said in the Book of Deuteronomy that He dealt with His people in the same manner as the eagles perched upon high cliffs, and caring for their families and others.
We've talked about the egtou, or the process of the unborn eaglet, who has the task of pecking his way out of the shell that encloses him. That mother eagle will do nothing to help him crack the shell, but do everything to help him once he breaks free of his confinement.
For that unborn eaglet, there has to be a power inside him. He must have something hard enough on the inside that he can fight his way out of the cofinement on the outside. From that we may learn that sometimes God wants to toughen you up in some areas where you may not want to. But He's getting you ready for the next dimension. The chaos that is going on around you, is simply God using something meant for evil to
turn it into something Good.
Once you break through the shell you find yourself in a bigger place than you were. Now the confinement becomes your nest. Listen to earn the right to go to the next dimension, you have got to be faithful and crack the shell or escape the nest so that God can lead you into something that is greater. Stop expecting God to crack the shell. Stop expecting other people to crack the shell. They are not going to do it. There are some breakthroughs that you have got to persevere and maintain faith so that you will be mature and established enough for a larger challenge! It is important that you break your own shell.
Once the egg is cracked it is crushed down, covered with feathers and the nest is made comfortable. So God saw Egypt as a giant nest and the children of Israel as eagles, and that's the way He nurtured, fed, and caused them to grow. And that's how He causes you to grow. They went down into Egypt family of seventy souls, but when they left Egypt, they were a mighty nation of several million. I put you in Egypt, because I knew that there was a nation in you. You see, there is something greater in you than what you have manifested thus far.
There are many who don't feel the need to come to church because you are satisfied where you are! You don't yearn for the destiny; you don't need to hear any more Word; you don't need to be in the company of like faith to worship because you don't realize that God would like to do something greater in you! God has More for you! You are stuck in your walk with the Lord, not growing, not learning, not pressing in, just soaking up every bit of kindness somebody else can offer. But my friend, there will come a day when you will either crack the shell, or die in the egg!
Some are so in love with their present world, like Demas, they cannot go one to another dimension because they are so in love with this. Listen, this is not that! I'm on my way to somewhere! God has provided so much more than just a mundane, status quo, ordinary existence for us.
I may be in this crazy marriage, but this is not what God has for me.
I may be going through a struggle financially, but its temporary, I'll get
through it. This is not that.
I may be struggling with my kids with all their hangups, but God will get me
to a better place.
I may be going through tuff times with my health, but The Lord will help me!
I may have been layed off and don't have a job, but The Lord will provide. It's temporary and this is not that.
Joseph may have been trapped in a dungy prison, but he knew this was not
that,. God had a greater plan and purpose for him.
David may have been stuck in a cave at Eh Geddi, running like a fugitive
before Saul, but he knew this is not that.
Daniel may have been thrown in a lion's den, but he knew this is not that!
Jonah may have been stuck in a whale's belly, but he knew this is not that!
Peter and John may have been and thrown in jail, but they knew this is not that!
Paul may have been on a sinking ship in a terrible storm, but he knew this is not that!
And this preacher is here to tell you today that whatever you are in the midst of right now, it is temporary, and it's not your destiny, and God will lead you all the way out!
REDEMPTION
Before the Redemptive Provision, we were in bondage, but God had a greater dimension for whosoever will accept His offer of grace.
Galatians 4: 3-5
3. Even some, when we were children were in bondage under the elements
of the world:
4. But when the fulness of the time was come, God sent forth His Son,
made of a woman, made under the law,
5. To redeem them that were under the law, that we might receive the
adoption of sons.
At that time we were encapsulated in the shell of the natural and worldly elements, but God who is rich in mercy, with His great love, sent His Son and gave us power to break out of that shell of bondage and to become the children of God.
Lost and having no hope without God in the world, because of His covenant, God was ready for men and women to break out of the earthly dimension of sin and bondage unto fear, and be given power, and love, and a sound mind. For so many years, so many lambs were offered up, and priests stood daily in the temple offering sacrifices that can never take away sin. But God so loved the world that He sent His only begotten Son so that we could enter into a new dimension of salvation by grace through faith. When those women went to the tomb two angels appeared to them to say this is not that!
Luke 24:5-9
5. And as they were afraid, and bowed down their faces to the earth, they said unto them, Why seek ye the living among the dead?
6. He is not here, but is risen; remember how he spake unto you when he was yet in Galilee,
7. Saying, The Son of Man must be delivered into the hands of sinful men, and be crucified, and the third day rise again.
8. And they remembered his words,
9. And returned from the Sepulchre, and told all these things unto the eleven and to all the rest.
Oh no my friend, the grave was intended by Satan to be the prison of our Lord Jesus, but God raised Him up to become the propitiation of our redemption. He is alive today, and because He has won for us such a marvelous victory over death, hell, and the grave, we have faith to believe that God will raise us up and we shall break free.
THE CHURCH
For so many years, so many lambs were offered up.
O praise God, when Peter answered the accusation of the crowd on
the day of Pentecost.
Acts 2:13
13. Others mocking said, These men are full of new wine.
14. But Peter, standing up with the eleven, lifted up his voice, and said unto them, Ye men of Judea, and all ye that dwell at Jerusalem, be this known unto you, and hearken to my words:
15. For these are not drunken, as ye suppose, seeing it is but the third hour of the day
16. But this is that which was spoken by the prophet Joel,
17. And it shall come to pass in the last days saith God that I will pour out
of My spirit.