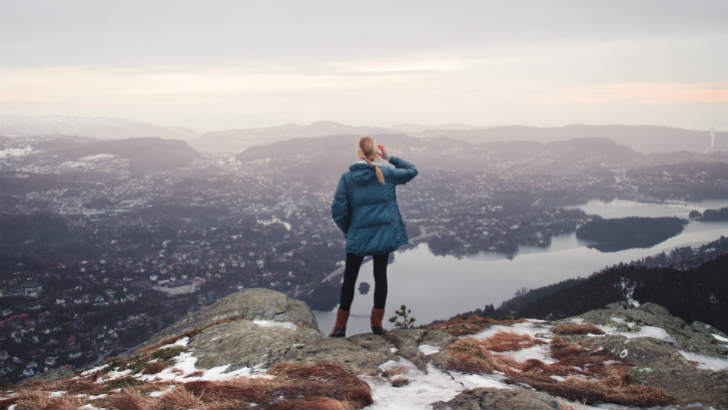 A Faithful Vantage Point
A Faithful Vantage Point
Where you stand determines what you see!
This 73rd Psalm is the first of eleven consecutive psalms bearing the notation, A Psalm of Asaph. There is some question as to whether Asaph was the author or the person to whom they were dedicated. We find in 2Chronicles 29:30, that Hezekiah commanded the Levites to sing "the words of David and of Asaph the seer; " and, in Nehemiah 12:46, David and Asaph are mentioned together as distinct from "the chief of the singers", thus it would seem that they are joint authors of the twelve Psalms ascribed to him.
Whatever the case, Psalm 73, as in Psalm 37, the theme seems to be that ancient stumbling block of Christian men and women, despondency and doubt concerning the present prosperity of wicked men and the sorrows of the godly. For believers, this condition of slippery feet too often has been a very serious temptation.
1. (A Psalm of Asaph. ) Truly God is good to Israel, even to such as are of a clean heart.
In Ps 73:1, the psalmist declares his confidence in God, and, as it were, plants his foot on a rock while he recounts his inward conflict. That verse tells us how Asaph has been educated, and what experience has taught him. He begins to compare himself to those who have a clean heart, as if he is not so sure about his status, "but as for me."
From Ps 73:2-14 he states his temptation.
2. But as for me, my feet were almost gone; my steps had well nigh slipped.
Most certainly lack of faith, or doubt, and failing to trust is the root of despondency. Wherever it comes from, unbelief is at the root of making peace with our despondency, yielding to it, giving no spiritual warfare to fight it, being negligent about resisting that spirit, and putting on the armor of God and taking the shield of faith.
3. For I was envious at the foolish, when I saw the prosperity of the wicked.
4. For there are no bands in their death: but their strength is firm.
5. They are not in trouble as other men; neither are they plagued like other men.
6. Therefore pride compasseth them about as a chain ofviolence covereth them as a garment.
7. Their eyes stand out with fatness: they have more than heart could wish.
8. They are corrupt, and speak wickedly concerning oppression: they speak loftily.
9. They set their mouth against the heavens, and their tongue walketh through the earth.
10. Therefore his people return hither: and waters of a full cup are wrung out to them.
11. And they say, How doth God know? and is there knowledge in the most High?
12. Behold, these are the ungodly, who prosper in the world; they increase in riches.
13. Verily I have cleansed my heart in vain, and washed my hands in innocency.
14. For all the day long have I been plagued, and chastened every morning.
15. If I say, I will speak thus; behold, I should offend against the generation of thy children
16. When I thought to know this, it was too painful for me;
He is embarrassed as to how to act!
This condition of despondency is best defined as "when my heart and my flesh are failing." The word fail means, "come to an end, run out, exhausted of resources." It is a crisis, which means that all coping mechanisms have failed and a person finds themselves in a state of hopelessness. And this word in Hebrew (Kalla) means come to an end, be exhausted, be depleted of resources to handle problems and life.
Psalm 73:26 contains this truth: Its just, "My flesh and my heart are failing, I am discouraged, I am despondent, I am at my wit's end." And then comes the spiritual counter attack in the next phrase: "but God." The God who is the strength of my life, who has promised not to leave me nor forsake me, nor take His hand off me until He has completed that which was begun in me, He will deliver me out of this despondency.
Psalm 19:7
The law of the Lord is perfect, reviving the soul."
If despondent means emptied, then I'm here to tell you this morning that God will bring back to life, some things that have died in your soul! He will fill you with His Spirit, the encourager, and give you a peace and a joy that will thrill your discouraged, despondent, disappointed heart!!
But in verse 17 He begins to recover!
17. Until I went into the sanctuary of God; then understood I their end.
18. Surely thou didst set them in slippery places: thou castest them down into destruction.
19. How are they brought into desolation, as in a moment! they are utterly consumed with terrors.
Let's go to Jesus. Turn with me to Matthew 26:36. I want us to be with Jesus for a few minutes in Gethsemane. We've just celebrated the Lord's Supper. A few hours later Jesus is in Gethsemane and what's happening there is probably the greatest spiritual warfare in a human soul that's ever happened or ever will happen.
Satan no doubt has drawn near. You remember when it said after Jesus was tempted in the wilderness, "He withdrew from him until an opportune time." When do you think that was? I think it was at this very moment. And not only did he draw near. I think he gathered all of the most powerful members of his wicked army.
You can be assured that the flaming darts that Paul mentions in Ephesians 6 were flying with volleys against the soul of the Son of God as he knelt there wrestling for his faithfulness Look at verse 36:
Then Jesus went with them to a place called Gethsemane and he said to his disciples, "Sit here while I go yonder and pray" And taking with him Peter and the two sons of Zebedee, he began to be sorrowful and troubled. Then he said to them, "My soul is very sorrowful, even to death."
Now what's going on here, why is Jesus so distressed and troubled and sorrowful?
John 12:27 says "Now is my soul troubled. And what shall I say? 'Father, save me from this hour?' But for this purpose I have come to this hour."
I think that text tells us what the nature of the temptation was. Satan was firing volley after volley into the mind of Jesus Christ. And thoughts came into his mind from Satan, thoughts like, "This is a dead end street. Calvary is just a black hole to hurt like nothing has ever hurt any human being ever before, and these rascals aren't worth it, etc." These were coming out of Satan's wicked heart into the mind of the Son of God. Satan wants to produce in Jesus a spirit of despondency that sinks unopposed in resignation and says, "It won't work, there's no point in pressing on anymore."
When reading about His passion, we're reminded of what Jesus who was sinless, said to those disciples: John 14:1 Let not your hearts be troubled, ye believe in God, believe also in me. Or John 14:27: "My peace I leave with you; my peace I give to you, not as the world gives to you. Let not your hearts be troubled.
HOW DO YOU HANDLE A TROUBLED HEART?
Well, you do what Jesus did!
1. Jesus chose some close friends to be with him. Verse 37: "And taking with him Peter and the two sons of Zebedee, he began to be sorrowful and troubled." Don't isolate yourself.
2. He opened his soul to them. Verse 38: "Then he said to them, 'My soul is very sorrowful, even to death." I can imagine their mouths dropping open, their King confessing is temptation.
3. He asked for their help in spiritual warfare. Verse 38, second half: "Remain here and watch with me." Ask your friends to fight the devil with me."
4. He poured out his heart to the Father in prayer. Verse 39: "My Father, if it be possible, let this cup pass from me." It's just fine to pray that the bombshell that has dropped into your life be taken away. Whatever it is that Satan fires at you, it's okay to say, "Take it away Father. You're stronger than he is."
5. But finally, he rested his soul in the sovereign wisdom of God. Second half of verse 39: "Nevertheless, not as I will but as thou wilt.
CONCLUSION
Psalm 73:22-24
22. So foolish was I, and ignorant: I was as a beast before thee
23. Nevertheless I am continually with thee: thou hast holden me by my right hand.
24. Thou shalt guide me with thy counsel, and afterward receive me to glory.

On this Veteran's Day, our members who served in the Army, Navy, Air Force, Coast Guard, and Marines were invited to stand before those in attendance as their cadence was played. We are grateful for all who have served in the United States military.