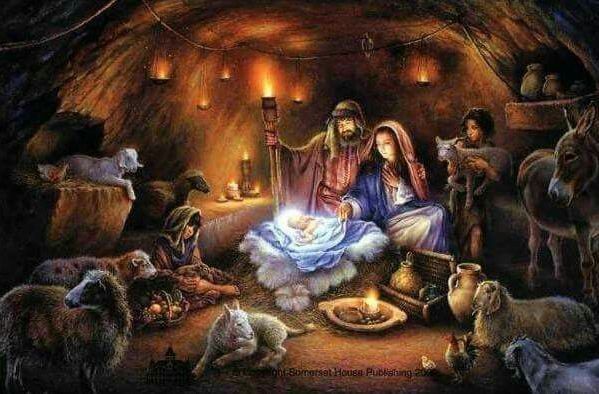 I'm Dreaming Of A White Christmas
I'm Dreaming Of A White Christmas
Isaiah 1:18
Come now, and let us reason together, saith the LORD: though your sins be as scarlet, they shall be as white as snow; though they be red like crimson they shall be as wool.
Luke 19:10
For the Son of man is come to seek and to save that which was lost.
Zechariah 13:1
In that day there shall be a fountain opened to the house of David and to the inhabitants of Jerusalem for sin and for uncleanness.
On Tuesday, a global Christmas will be observed by billions of people all over the world, yet the vast majority will miss the real message first given by the Christmas Angel, "For unto you is born this day in the city of David, a Savior, which is Christ the LORD.
Like the people of Jerusalem, and the many surrounding villages and towns, all were gathered back to the city of their birth in order to submit to a taxation of the Roman government. Every person went to be taxed and suffered under the burden of terrible oppression and poverty.
Little did the world notice that in a little town of Bethlehem, the City of David, God was at work in the Redemptive Provision. The Love of GOD was shed abroad, the Grace of God appeared unto us, and Holy Spirit spoke to hearts in prophetic tones to let those who looked for the Consolation of Israel know that He Who had been silent for 400 years, was now causing a light to shine out of the darkness, and rumblings of salvation, forgiveness, and healing were heard by humble people. Angels giving messages to a virgin, and messages to men who would become fathers of anointed children, and a barren woman would birth a man who would become a forerunner of God's Great Light of Salvation!
Why all this redemptive activity? So that sin, the depraved nature of fallen man could be dealt with once and for all. That depaved nature that was imposed upon the entire race was due to the rebellious deceit and evil strategy of our adversary, Satan. With emphatic passion and stalwart faith, Paul, who was possibly the world's greatest Christian said:
1 Timothy 1:15
This is a faithful saying, and worthy of all acceptation, that Christ Jesus came into the world to save sinners; of whom I am chief.
Would it surprise you to know that Jesus has some very interesting people in His family tree?
Matthew 1:5
"Salmon the father of Boaz, whose mother was Rahab"'.
To their great surprise, many first-time Bible readers are quite intrigued to learn that the New Testament begins with a genealogy (Matthew 1:1-16). They are even more surprised when Rahab shows up on the list.
Most of us know about her. She is almost always mentioned in the Bible as "Rahab the harlot." But that's not all. Rahab was also a Canaanite, a people who God told Joshua to destroy. They were the occupants of the promised land, and the hated enemies of Israel. Her most exemplary deed was hiding the spies and telling authorities that she had not seen the spies, a lie. Think for a moment about that.... A lady who was a Harlot, a Canaanite, and a liar, became a woman of faith. You would never think of looking for her name on the list, but there she is in the opening of the NT, in the Book of Matthew, chapter
Her story is recorded in Joshua, chapter two, and Joshua, chapter six. The scarlet cord hanging from her window was the signal that brought salvation for Rahab and her family. The cord became the Passover identification, indicating relationship with GOD. Did I say she was a woman of faith? Look at
Hebrews 11:31
By faith the harlot Rahab perished not with them that believed not, when she had received the spies with peace.
"By faith Rahab." You see, we are saved by grace through faith! Because of what she heard and believed, she became a believer! Rahab is part of Jesus' family tree.
If you know Jesus, and you are a believer, I believe you will meet her in heaven. And there in His Presence, at last she will be no more Rahab the harlot. She will forever be known as Rahab the child of God.
Many people are intimidated by Jesus Christ. They mentally connect him with a lot of religious paraphernalia-big sanctuaries, stained glass, beautiful choir, pipe organs, formal prayers, and all the rest. When they look at the trappings, it's all very intimidating to them. Jesus seems be a story that is too good to be true.
This genealogy is in the Bible to let us know he had a background a lot like yours and mine. He called himself "the friend of sinners," and he said he didn't come to call the righteous, but sinners to repentance. He said, "The Son of man has come to seek and to save that which is lost." (Luke 19:10)
"THAT" is an all inclusive term!
A quiet rebuke to the Pharisees and priests and their followers, who would attempt to limit the availability of God's offer of redemption. The Pharisees of the Sanhedrin rejected Him and found no need of His salvific offer of restoration and Peace with God. The "publicans", on the other hand, along with the vast depraved mass of mankind needed Him, and received Him, more than the happy privileged class. It was for the sake of these poor wandering sheep that he left his home of grandeur and peace. He was rich but He became poor, that we might be rich.
It was unto these poor despised ones, the outcasts, like this Zacchaeus, they want, they welcome me, like this. His own received Him not! This, too, was a lesson for all time.
This scene probably took place the evening of the Lord's arrival at Zacchaeus's house at Jericho, after the evening meal, when the room arid court of the house were filled with guests and curious spectators.
Dean Plumptre has an interesting suggestion that Zacchaeus the publican was one and the same with the publican of Luke 18:10-14, who in the temple "smote upon his saying, God be merciful to me a sinner! Is it too bold a conjecture that he who saw Nathanael under the fig tree (John 1:48) had seen Zacchaeus in the temple, and that the figure in the parable of Luke 18:14 was in fact a portrait Zacchaeus?"
No matter what you've done in the past, Jesus can save you. No matter what your past looks like, or your present feels like, no matter where you've been or what you've done, God can give you a fresh start. The same grace Rahab experienced is now available to you.
I invite you, this Christmas, in Jesus' name to come and be forgiven. He's already made the first move. The next step is up to you.